Up-To-Weet: Oakland AMA Supercross
Eens het supercrossseizoen is gestart raast het als een hyperactieve TGV-trein volgetankt met amfetaminen door tot dat ene rustweekend tijdens Pasen. 17 Wedstrijden in 18 weken! Oakland is dit weekend de vijfde manche en het is uitkijken of Eli Tomac zich na zijn overwinning in Phoenix kan profileren tot ware concurrent van Ryan Dungey. Daarbij komt de vraag of Marvin Musquin zich kan herpakken van een zwak weekend in Phoenix om zich op zijn beurt in de race om de titel te houden. In de 450 klasse is Ken Roczen uiteraard nog steeds afwezig. Naast hem zullen Justin Barcia (pols), Weston Peick (nieren & pols), Justin Bogle (longen) en Trey Canard ook de wedstrijd in Oakland missen. De laatst genoemde is deze week echter wel opnieuw met de motortraining gestart.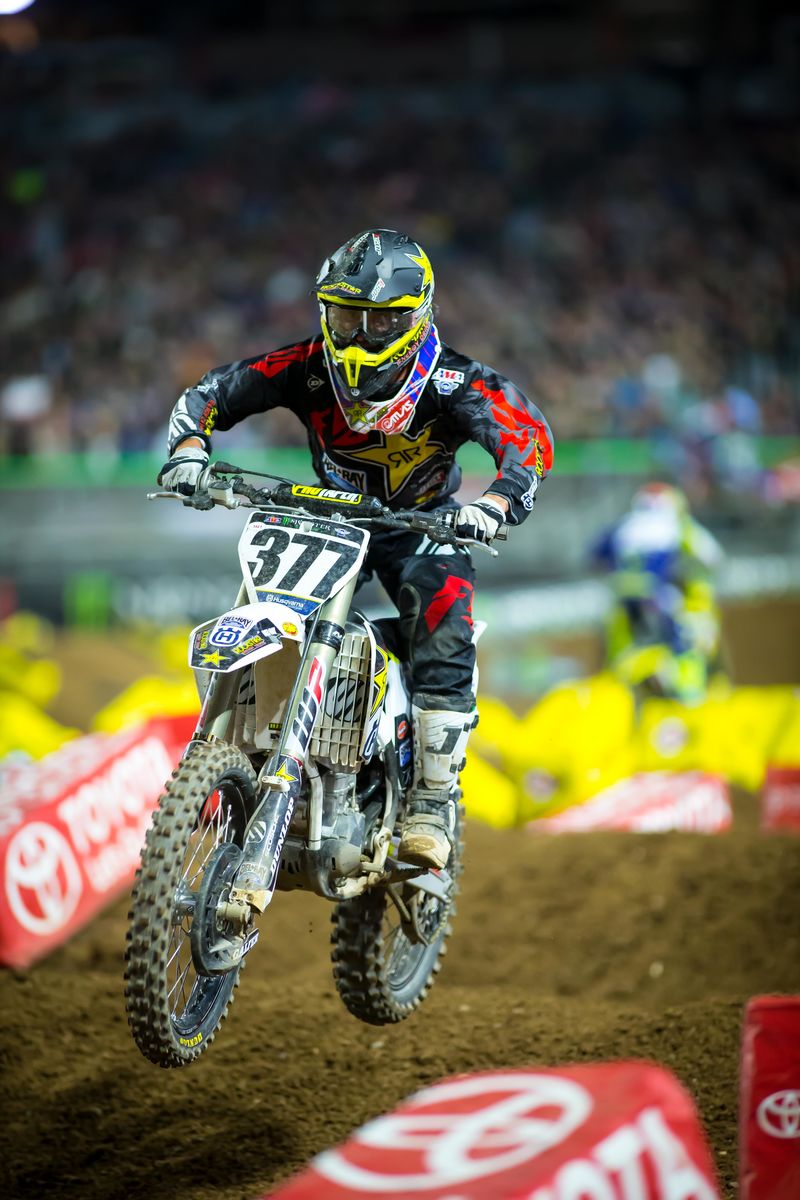 Ook Christophe Pourcel zal niet aan de start staan, de Fransman is nog steeds niet hersteld van z'n nek blessure opgelopen in Washougal. Dit zou meteen ook de mindere resultaten moeten verklaren. Husqvarna en CP377 hebben dan ook in onderling overleg besloten om hem dit seizoen de Canadese Nationals te laten betwisten. Zodat de juiste vorm weer kan worden hervonden in deze wedstrijden, een methode die de KTM familie al eerder toepaste bij Davi Millsaps. Dean Wilson neemt vanaf dit weekend de plaats in van Christophe Pourcel.
In de West Coast SX250 klasse is de titelstrijd razend spannend. Met koploper Shane McElrath die vier punten voorsprong telt op Justin Hill. Deze Pro Circuit piloot bezorgde met z'n overwinningen in de laatste twee wedstrijden het legendarische team de 250ste overwinning uit hun bestaan. Deze twee moeten ook nog rekening houden met Aaron Plessinger hij volgt op tien punten van Shane McElrath en dus op slechts zes punten van Justin Hill. Voor Martin Davalos lijkt het wederom niet voor dit jaar te zijn die titel. Hij volgt al op 22 punten, al zijn er uiteraard nog 125 punten te verdienen. Misschien ook nog belangrijk om weten voor uw 'Fantasy Teams' is dat Tyler Bowers (gebroken bovenbeen), Jeremy Martin (hersenschudding), Chris Alldredge (sleutelbeen), Zac Commans (hand & arm), Bradley Taft (hersenschudding) en Hayden Mellross (hand) niet zullen rijden in Oakland.
De eerste supercrosswedstrijd in Oakland-Alameda Coliseum vond plaats in 1979. Sindsdien zijn er reeds negen wedstrijden verreden, deze wedstrijd is dan ook een beetje een jubileum editie.
Handige Links
Resultaten Oakland – Resultaten Archief – Live Timing – Live Timing voor Mobiele Apparaten – Deelnemerslijst West 250 – Deelnemerslijst SX450 – Parcourstekening
Live Training vanaf 18u30

Live Racing: Supercrosslive.com
U kan vanaf dit jaar de wedstrijd live en volledig legaal bekijken via de aangeboden seizoenspass van Feld Entertainment. De Promotor van het AMA/WK Supercross bied deze pay-per-view formule aan, aan iedereen die niet in Amerika of Canada woont en met andere woorden dus geen beroep kan doen op FOX Sports. U betaalt 100$ voor een seizoenspass dat is zo'n 95 euro.
Het Parcours


Tijdsschema – CET (UTC+1)
Trainingen
17:15 – 17:30 Riders Meeting AMA Trailer (Mandatory)
17:30 – 17:45 Chapel Service
18:00 – 18:30 Rider's Track Walk
19:00 – 19:10 250SX Group B Qualifying
19:15 – 19:25 250SX Group C Qualifying
19:30 – 19:40 250SX Group A Qualifying
19:45 – 19:55 450SX Group A Qualifying
20:00 – 20:10 450SX Group B Qualifying
20:15 – 20:25 450SX Group C Qualifying
20:25 – 20:35 Promoter Track Walk
20:35 – 21:10 Track Maintenance
21:10 – 21:20 250SX Group C Qualifying
21:25 – 21:35 250SX Group B Qualifying
21:40 – 21:50 250SX Group A Qualifying
21:55 – 22:05 450SX Group A Qualifying
22:10 – 22:20 450SX Group B Qualifying
22:25 – 22:35 450SX Group C Qualifying
22:40 – 22:50 Promoter Track Walk
22:50 – 00:15 Track Maintenance
Avondprogramma
00:30 – 01:05 Opening Ceremonies
01:05 – 01:12 250SX Heat #1 – 5 Minutes/Plus 1 lap – 20 riders (1 – 9 to Main)
01:18 – 01:25 250SX Heat #2 – 5 Minutes/Plus 1 lap – 20 riders (1 – 9 to Main)
01:31 – 01:38 450SX Heat #1 – 5 Minutes/Plus 1 lap – 20 riders (1 – 4 to Main) (5 – 20 to Semi) (Even finishing positions to Semi #1, odd to #2)
01:44 – 01:51 450SX Heat #2 – 5 Minutes/Plus 1 lap – 20 riders (1 – 4 to Main) (5 – 20 to Semi) (Even finishing positions to Semi #1, odd to #2)
01:51 – 02:06 Track Maintenance
02:06 – 02:11 250SX Last Chance Qualifier – 3 Minutes/Plus 1 lap – 22 riders (1 – 4 to Main)
02:15 – 02:21 450SX Semi #1 – 4 Minutes/Plus 1 lap – 16 riders (1 – 5 to Main) (6 – 16 to LCQ)
02:25 – 02:31 450SX Semi #2 – 4 Minutes/Plus 1 lap – 16 riders (1 – 5 to Main) (6 – 16 to LCQ)
02:31 – 02:45 Intermission
02:46 – 02:51 450SX Last Chance Qualifier – 3 Minutes/Plus 1 lap – 22 riders (1 – 4 to Main)
02:56 – 03:02 250SX Sighting Lap
03:02 – 03:19 250SX Main Event – 15 Minutes/Plus 1 lap – 22 riders
03:18 – 03:25 250SX Victory Circle
03:28 – 03:33 450SX Sighting Lap
03:33 – 03:55 450SX Main Event – 20 Minutes/Plus 1 lap – 22 riders
03:55 – 04:00 450SX Victory Circle
Podium 2016 Supercross in Oakland
450 Klasse
1. Ryan Dungey (KTM)
2. Ken Roczen (Suzuki)
3. Marvin Musquin (KTM)
250 West Klasse
1. Joey Savatgy (Kawasaki)
2. Colt Nichols (Yamaha)
3. Christian Craig (Honda)
Laatste 450 Winnaars in Oakland
2012: James Stewart (Yamaha)
2013: Ryan Villopoto (Kawasaki)
2014: Ryan Villopoto (Kawasaki)
2015: Trey Canard (Honda)
2016: Ryan Dungey (KTM)
Laatste 250 Winnaars in Oakland
2012: Eli Tomac (Honda)
2013: Ken Roczen (KTM)
2014: Jason Anderson (KTM)
2015: Malcolm Stewart (Honda)
2016: Joey Savatgy (Kawasaki)
Tekst: Matthias Van Eeckhoven – Foto's: KTMImages.com – media.husqvarna-motorcycles.com
Uw reacties