Foto: De Husqvarna FC 450 'Rockstar edition' onder het vergrootglas
Hij is vanaf februari 2018 exclusief verkrijgbaar in de VS, maar wij konden het niet over ons hart krijgen om jullie niet enkele foto's van de nieuwe Husqvarna FC450 Rockstar Edition te laten zien. Net als bij KTM is er een beperkte productie van de machine. Hierdoor volstaat het merk aan de vereisten van de 'productieregel' van de AMA die als volgt gaat. De machines die in het kampioenschap gebruikt worden moeten minstens 400 keer geproduceerd worden.
Een lichtere en compactere motor en een stijver frame dat 250 gram wint door een nieuw achterframe. Er is ook een nieuw Pro Taper stuur voorzien, een starterkit en een Rekluse koppelingsdeksel die hem een zeer 'Race Ready' karakter geven. Samen met de 'Rockstar Energy' stickers toont de motor heel competitief.
Enkele reacties over de nieuwe motor van de Husqvarna 450 rijders:
Jason Anderson: "It's great to be back on the Rockstar Energy Husqvarna Factory Racing team. We have a really great team this year and I'm excited to get the season going. I'm also looking forward to racing the new FC 450 ROCKSTAR EDITION, and hope to keep it out front all season."
Dean Wilson: "I'm really excited to be part of the Rockstar Energy Husqvarna Factory Racing team again. I had one of my best years ever in 2017 thanks to this team, and I'm looking forward to an even more successful 2018. I've been working so hard in the off-season and the bike is amazing. I'm at a good place with my fitness and health and I'm definitely ready for A1."
Hieronder vindt u alle specificaties over de nieuwe motor die jammer genoeg niet verkrijgbaar zal zijn in Europa. Deze FC 450 Rockstar edition is wel een prototype voor de nieuwe FC 450 2019.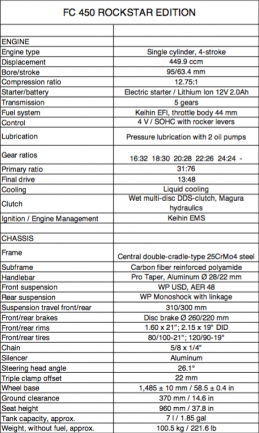 Uw reacties